Amazingly I have not one single archived photo in this bunch! I took them all this week! That's a feat, right? In any case, I'm loving the colors and lighting lately - fall is here! This week it felt much more like summer, though. It was in the 80's, which for October in WI is unheard of. Literally. I think it's a record...
I love fall colors. But I just can't seem to capture a landscape I love. I LIKE this one. But... I think I like this one:
Landscape
#2
better. I don't know if it qualifies, though.
Triadic Color
Alright, I don't mean to sound boastful, but I am seriously stoked about the picture. Why? Well, first and foremost, this is SOOC. I kid you not. Look at those colors! But, also, I took this simply because I loved the look - then I read
the meaning of triadic color on KatEye View
and realized I had the PERFECT representation. I even have the proportions of colors right! Yea!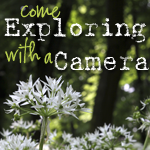 Black and White
bug was so excited to get his big boy bike this summer! But for some reason he still begs K to switch bikes with him so he can ride the princess bike.
Food
Ridiculously delicious pie. Quite low cal as well, not even kidding. Recipe forthcoming.
Blank Space
I usually take sunset photos right into the sunset, but this time I turned around and captured it from the other way. And I kind of love the colors.
You can expect a lot more fall color in the coming photos! I do love fall.

*Be sure to check just below for all the fun parties I link to!