Today's guest is Hannah from Young and Crafty Sisters. You've gotta go check out this sister-run blog! She's sharing a fabulously simple gift idea for any jewelry-lover on your list!
***
Hi! My name is Hannah and I blog over at
Young and Crafty Sisters
. My sister and I share a little bit of everything, from crafts, furniture make overs, food, fashion, and much more! Be sure to hop on over and have a look around.
Lately, I've been really into stud earrings. So much so that I was running out of places to put them. You see, I have this earring holder that hangs on the wall and is perfect for dangly earrings. I started using the ledge for studs which worked fine. That is until my stud addiction got worse…
It is super functional for all of my dangly earrings and I still love it.
So here is how I made a stud earring holder.
I've had this picture frame for awhile just sitting around. It was brown and I wanted white. I gave it a quick coat of spray paint. It was at this point that I also thought. Hmmm… if I take out the glass and the back, how is this thing going to stand up. Not my brightest moment.
FYI: I think I'm probably the worse spray painter ever. Patience is key and I have none. I know all of the right ways to spray paint, I just don't follow them. You are supposed to go back and forth lifting up on the "trigger" each time. I'm more of a "hold the trigger down the entire time" kind of spray painter. The results aren't always good.
This was my solution to making it stand up. I cut a piece of dowel rod into two equal lengths. I then drilled a hole in the frame and stuck the dowel rods in. I'll be honest, they fit so snuggly that I didn't even hot glue.
Now you've got a nice little free standing frame!
Next, I added some black lace to the inside. I hot glued it into place and then hot glued over the top as well. I love using lace for an earring holder because there are tons of holes to hang or poke your earrings through!
That's it! This project is super easy and quick.
I have mine sitting on our counter by the toothbrushes. No, my counters do not stay this clean. And yes, everything that was there is on the right side of the counter that I'm not going to show you :)
I intentionally made it the opposite colors of the one I have hanging up. I didn't want it to be matchy-matchy.
***
Thanks for sharing this fun tutorial, Hannah! Make sure to come back tomorrow for more gift giving awesomeness!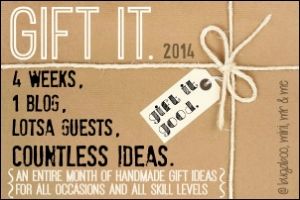 <a href="http://bugaboominimrme.blogspot.com/"><img src="http://i799.photobucket.com/albums/yy276/kbmueller/Beautifying%20Blog%20Pictures/0ffd9711-0261-4e13-9866-83ff36f6739d_zps43748e9a.jpg"/></center>

*Be sure to check below for all the fun parties I link to!*