My first guest for the series is Maggie from Red Ted Art, a blog I totally love for all things related to creativity and kids! If you aren't following it yet, go on over and do it. You'll love her amazing ideas and all the inspiration she shares! I'm excited to have her top 5 gifts for kids here today!
It is sooo lovely to be here to talk about handmade gifts! I have to say, I have always loved making gifts myself - when I was younger it was a way to not only make things special, but also a little more economical (especially when I was a teenager and a student and didn't have much cash). Now, as a mother, I love making things for my kids and I want to teach them that homemade is just as special (if not more so) than store bought. I love that my kids put "birthday present orders" in with me now... My little girl has a rag doll + clothes on order and my son, has a giant chicken doorstop he wants me to make for him. So I thought I would share 5 of our favourite
handmade gift ideas
with you today:
Every child needs a
DIY Hobby Horse
! Why stop at one, as they are so easy to make, make them and their friends' a set!
For those of you who like to sew or are BEGINNER SEWERS, this is a lovely little projects to make for the girls in your life - a simple
Pillow Case Dress
- a great gift for girls to make yourself. And why not make a matching one for Dolly or Teddy?
I really enjoyed making this
Felt Food: Donuts & Strawberries
for the kids probably about 3yrs ago now. And again, they are still much played with. The strawberries also look great as key rings!
A great gift for kids as stocking fillers - or maybe at Easter as an alternative to chocolate are these
Dino Soap Eggs
- and there is an added bonus of that the kids will be washing their hands more!
I LOVE making my kids DIY Costumes and I think they make great gifts for kids as well I think. I have made lots of things for them over the years, but I particularly like this
Knight's Shield
to
Red Ted's batman costume
to this
Cute Witch's Tutu
. If you are looking for homemade gifts, check out our favourite
handmade gifts
section over on Red Ted Art!
Maggy is a mum of two and passionate crafter and author of best selling craft book Red Ted Art, Cute and Easy Crafts for Kids. As if that isn't enough she also writes for Fun, Crafts, Kids - an ecclectic website show casing an array of crafts and fun activities for all age groups. You will also find her on Life at The Zoo for all sorts of things including cooking with kids and Theatre Books and Movies for well, just that. Maggy's craft site, Red Ted Art, is also now being translated into German! Enjoy!
Several items have now been added to the Christmas "to make" list! Thanks for being here, Maggie!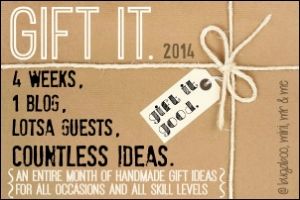 *Be sure to check below for all the fun parties I link to!*